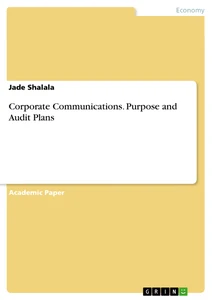 Corporate Communications. Purpose and Audit Plans
Akademische Arbeit 2019 32 Seiten
Leseprobe
Table of Contents
TASK 1
Explain the purpose of corporate communications
Assess how corporate communications link to corporate objectives
Analyse the relationship between corporate communications and corporate branding
Analyse the reasons why business organisations conduct internal and external corporate communication audits
The importance of corporate communication to the success of Investec Bank
TASK 2
Corporate communications internal and external audit plan
Internal corporate communications audit for Investec Bank
External corporate communications audit for Investec Bank
TASK 3
Audience and Stakeholder analysis
International and cultural issues
Evaluation of communication channels (relating to stakeholder groups)
Develop appropriate measures to monitor the effects of a planned corporate communication strategy
Cost-benefit analysis
Evaluation of the effectiveness of current levels of organisational corporate communications for Investec
Reference list
TASK 1
Explain the purpose of corporate communications
The purpose of corporate communications is to allow a company or organisation to communicate both profitably and effectively. A company depends largely on its relations with its stakeholders –clients, community, employees, suppliers etc- in order to realize its objectives. Corporate communications is used to motivate and inform employees and stakeholders and is a tool used to persuade and lead customers. It is there to provide public information, be a press agentry and create two-ways asymmetric to enhance the understanding of stakeholders.1
Corporate communications is used as a tool for Public Relations as it involves constructing relations with consumers and responding to their inquiries. The company's website, email and social media presence allows customers to engage and the company can thus monitor and respond to stakeholder interactions.2 All of these two-way interactions must be done timeously in order to be effective and to reinforce the public image created by the company.
It is used to create channels between the different authority levels of a corporation, which is essential for the success and growth of a business: top managers need to be aware of every aspect of their company and lower staff are going to work harder if they feel their ideas and grievances are being heard. Depending on how well a company communicates its vision and strategy with its resource holders, determines the success of its efforts to influence context and reputation about the company and how it functions. Therefore, corporate communications is a key tool in allowing effective and timely distribution of information between the different staff levels of the company, the general public and stakeholders.
Assess how corporate communications link to corporate objectives
Corporate communications has a significant connection to corporate objectives. The top management ought to make sure that company objectives are plainly communicated to the lower management through middle management. This means that employees will most likely be more enthusiastic and motivated towards achieving those objectives- whether short term or long term- increasing productivity and employee satisfaction.3 Thus, because employees feel part of the discussion around the corporate objectives, it boosts morale and promotes a culture of transparency and accountability within the corporation.
There are a number of corporate objectives such as: Publicity – communication is founded upon press releases, direct advertising and executive interviews; Collaboration – working in teams to achieve the goals set out; Information- about projects, meetings, etc.; Printed proceedings - precision is essential in all corporate communication, thus it frequently includes a written constituent in order to ensure clarity.4
We can see from the assessment of the corporate objectives that in order to achieve these it is imperative to have good corporate communications. This will help achieve great publicity, fluid internal and external collaborations, and assist with maintaining and attaining new information.
Analyse the relationship between corporate communications and corporate branding
Corporates use a symbol to identify themselves to their audiences or clients, which is corporate branding. This is essential as it builds cognizance and acts as a reminder of the existence of the company. We must also consider corporate image which includes the objectives and plans of the organisation. This includes services, communication activities, products and management style.5
Corporate communications are used to enforce and promote the organisational brand and its reputation through clarifying the brand strategy, brand position, brand identity, and brand message.6 Due to companies constantly having to operate in a more public spotlight, corporate communication techniques are used in order to promote more transparency, which allows the general public to know what the company's procedures are and allows a company to justify their actions.7 By knowing exactly what the company is producing, it also installs a sense of confidence in the brand as consumers and stakeholders are able to not only view the performance of the company but also to view and appreciate the value of that company and the products or services it provides.
Therefore, to have a strong corporate brand, corporate communication is key in creating trust between the company and its external and internal stakeholder, which ultimately improves performance.8
After analysing these points, it is evident that corporate communications is essential to achieving the targeted growth of any organisation.
Analyse the reasons why business organisations conduct internal and external corporate communication audits
A communication audit is often used as an indicator of current communication techniques and how effective they are. It enables you to find out the biggest perceived issues that the business faces with communication and therefore gives the opportunity to create strategic communication solutions.9
Communication audits allow for a company to assess and evaluate the quality of information communicated internally and externally. This leads to how it affects the quality of communication relationships within the organisation and externally based on the extent of interpersonal trust, supportiveness, sociability, and overall job satisfaction.10
By doing these audits, valuable data is collected to be used for developing and restructuring the communication function, which can be used to facilitate mid-course corrections to communication programs if necessary.11 It allows for actual and potential bottlenecks, barriers and misunderstandings to be discovered and managed appropriately.
It is used to decipher which communication channels –social media, email, word of mouth etc. – are being actually utilised by employees and stakeholders to convey information. The managers can then decipher whether the message is being related correctly using these forms, whether there is room for improvement and whether all stakeholders are being reached or only a portion of them.
Corporates engage in communication audits for a multitude of reasons. One would be to see what worked and what didn't for the previous year – this is especially important when stakeholders are looking at revamping strategy for the next year and need those important insights. Another reason is the ever changing nature of corporate messaging. A company needs to evaluate if the needs of their clients have changed and whether the message being delivered is still being done so effectively in a clear way.
A company will often do a corporate communications audit in order to establish opportunities for change and to uncover new ways to maximise chances to better engage with customers. This is often done with the SWOT component of an audit. Another critical reason for a communications audit is to justify budgeting. A communications audit creates a cause and effect accounting of every marketing technique and it will demonstrate what needs to be done in order to achieve the strategic goals of the company.
Thus, internal and external communication audits are done to communicate to managers: who they are talking to, who they should be talking to, what issues people are talking about, from which sources most people get their information, through which communication channels information reaches people and the impact this all has on working relationships.12
The importance of corporate communication to the success of Investec Bank
Investec Bank is a multi-national, multi-departmental company that thrives on its ability to communicate successfully throughout the different departments, as well as different hierarchical levels and to their customers.
Due to the fact that we service our mutual clients from all different sectors of the bank, having open, easy communication channels is essential. Every single employee has a direct extension to call if needed and our global email list makes it's simple to communicate with any employee at any point.
Most newsletters or company changes are communicated via email and we have biannual meetings with higher management where everyone is briefed on the current state of Investec, as well as how their specific department is doing and are then asked to contribute ways and ideas that can help improve their department's outcomes further.
We work in a building where there are no individual offices and our business sector COO's sit on the same floor as the most newly hired staff. Open and frequent communication and question asking is encouraged and normalised and you do not feel as though higher management is unreachable.
Due to the fact that I service our UK clients from South Africa, we are constantly in video chats and email correspondence with our UK Leadership team in London. They are always a phone call away if we ever need clarity or need to dispute anything. Without this constant flow of open communication, we would not be able to efficiently service our UK clients to the level of excellence that Investec always produces. This goes for our Mauritian department as well.
Our Public Relations team is consistently monitoring and responding to our clients as feedback comes in through our different social media and email accounts. Every communication that is sent out to client's takes weeks, if not months, to approve and to make sure that the message portrayed is in line with Investec's values and reputation. We have a strong reputation, thus it is thoroughly important that no communication sent out by us is interpreted in a way that could damage it.
Our website and press releases are all highly informative and transparent. By releasing company sensitive information to the customers –e.g. financial standing, history and current ongoing projects- we create a sense of trust in Investec and also a sense of confidence from our clients in us as they are able to view our ongoing progress and growth .
Thus, exceptionally good corporate communications is one of Investec's key pillars of success as exceptional customer service is what differentiates Investec from other banks and investment companies.
TASK 2
Corporate communications internal and external audit plan
Internal Audit-Investec Bank (London)
Step 1:13
Analyse the communications vehicle distributed to Investec's audiences.
- Assemble samples of all communications vehicles that are distributed to target audiences.
- Evaluate for effectiveness, accessibility, and timing.
- Review social media strategy.
- Did Investec's audiences receive the key messages? What was lacking?
Step 2:
Get feedback from all internal audiences.
- From top management and normal employees and staff.
- What are the executives' concerns?
- What are the executives' vison of ideal communications strategies?
- What are the executives' views of the purpose of internal communications?
- What are the executives' opinions on staff roles in the internal communications process?
-Use surveys, interviews and focus groups to gain information from employees.
Step 3:
Collect data about how external audiences perceive your organisation.
- Review and evaluate traditional media coverage and how your organisation is perceived on social media.
- What does your community think of you?
Step 4:
Do a SWOT analysis.
- Organise findings into a table.
- Will help determine which communication methods work well for Investec and ones that do not, you can then change them accordingly.
- You can also determine opportunities you can leverage to improve your communications efforts with your target market.
- You can determine what is threatening Investec's successful communication with its stakeholders.
Step 5:
Make changes to your current communications plan based on all data collected and analysed.
- Focus on strengths
- Consider opportunities
- Minimize weaknesses
- Eliminate threats.
External audit- Investec Bank (London)
Step 1: Decide the method of feedback to use14:
- Surveys
- Media analysis
- Focus groups
- One-on-one interviews
Step 2: Ask relevant questions for the feedback15:
- How satisfied are you with the communication you receive?
- How effective is the communication you receive?
- How useful is the communication you receive?
- What kind of content would you prefer to receive, and how frequently?
Step 3: Look at Investec's various communication tools:
- Analyse all forms of Investec's communication channels – website, social media, press releases, blog posts etc.
- Understand the usefulness of each of these tools.
- Understand what methods work to reach your intended audiences and what do not.
Step 4: Do a SWOT analysis:
- This is most useful in identifying external opportunities and threats.
Step 5: Chart a new path:
- Based on the findings, it is important to make changes to the current communications approach in order to better communication externally.
Internal corporate communications audit for Investec Bank
Communication vehicles and their effectiveness, accessibility and timing:
- Emails
- Emails are seen as highly effective. This is the quickest way to distribute information in a mass fashion throughout the Investec staff. All emails are brief, to the point and simple. You can also call the sender or respond via email if anything from the email causes confusion. They are also moderately accessible. Staff have full access to emails whilst at work, however, only certain staff members have access to their emails from home. All emails are sent out 24 hours before a change will be deployed. This gives staff enough time to read the email, ask questions if need and implement the new knowledge with ample time.
- Team meetings
- Team meetings are highly effective. Face to face meetings happen once every two weeks and the plan forward from upper management is explained as well as a catch up on how the team is doing personally, as well as how we are working together as a team. However, it is only accessible every two weeks for an hour. The two week interval is good as it allows enough time to test out a new strategy or update, but also allows us to stop it quickly enough if it is not working efficiently.
- Skype calls
- Skype calls are highly effective. We have skype calls to our London management every month to check in and ask questions straight to the people who have the best knowledge to answer them. It is not that accessible as only managers have access to skype calls from the UK office and it has to be at scheduled times. Once a month gives more than enough time to ask questions around process change and product improvements and then enough time to report back on the most recent progress.
- WhatsApp groups:
- WhatsApp groups are highly effective. It allows for instant communication within a team and urgent queries can be handled immediately. They are highly accessible. Every member of the team has WhatsApp available on their phone. This allows for instant timing, allowing for immediate and unexpected queries to be dealt with timeously.
- Huddles:
- Huddles are highly effective. Done daily within the team to make sure that all new knowledge that has come to light is shared with the team and to discuss any shortcomings. They are mildly accessible. You need to attend these meetings while waiting for a call from a client to come through. However, if you have to deal with a client and miss the huddle, an email is sent with the minutes as not to miss out on any important information. It is done daily for 15 minutes which allows for instant feedback.
Employee/stakeholder feedback has been done via survey, as seen attached in Appendix A.
Investec employees are not permitted to solicit information from our clients without explicit consent, as our clients are of an extremely High Net Worth standing. However, according to media reviews through March 2019 – June 2019, the positive mentions continuously outweighed the negative mentions. You can view the weekly statistics attached in Appendix B.
[...]
---
1 study-aids.co.uk. 2019. Corporate Communication Strategies. [ONLINE] Available at: http://study-aids.co.uk/dissertation-blog/corporate-communication-strategies/. [Accessed 13 June 2019].
2 Chron. 2019. What Are the Functions of a Corporate Communication Department?. [ONLINE] Available at: https://smallbusiness.chron.com/functions-corporate-communication-department-23716.html. [Accessed 13 June 2019].
3 Dolphin, R., (1998) Fundamentals of Corporate Communications (CIM Professional Development), Butterworth – Heinemann
4 Uni Assignment Centre. 2019. Relationship Between Corporate Communication And Corporate Branding Information Technology Essay. [ONLINE] Available at: https://www.uniassignment.com/essay-samples/information-technology/relationship-between-corporate-communication-and-corporate-branding-information-technology-essay.php. [Accessed 15 June 2019].
5 study-aid.co.uk. 2019. Corporate Communication Strategies. [ONLINE] Available at: http://study-aids.co.uk/dissertation-blog/corporate-communication-strategies/. [Accessed 15 June 2019].
6 Van Riel, C. B. M., and Fombrun, C. J., (2007) Essentials of Corporate Communication: Implementing Practices for Effective Reputation Management, Routledge.
7 Van Riel, C. B. M., and Fombrun, C. J., (2007) Essentials of Corporate Communication: Implementing Practices for Effective Reputation Management, Routledge.
8 Van Riel, C. B. M., and Fombrun, C. J., (2007) Essentials of Corporate Communication: Implementing Practices for Effective Reputation Management, Routledge.
9 Kim Harrison. 2018. How communication audits make you more valuable. [ONLINE] Available at: https://cuttingedgepr.com/free-articles/pr-measurement/communication-audits-make-valuable/. [Accessed 27 October 2018].
10 Shalini Pandey. 2015. Communication Audit :The nature of a communication strategy. [ONLINE] Available at: https://www.slideshare.net/shalinipandey77985/communication-audit-50199190. [Accessed 27 October 2018].
11 Kim Harrison. 2018. How communication audits make you more valuable. [ONLINE] Available at: https://cuttingedgepr.com/free-articles/pr-measurement/communication-audits-make-valuable/. [Accessed 27 October 2018].
12 Shalini Pandey. 2015. Communication Audit :The nature of a communication strategy. [ONLINE] Available at: https://www.slideshare.net/shalinipandey77985/communication-audit-50199190. [Accessed 27 October 2018].
13 Yulia Dianova. 2015. Your communications audit in 5 easy steps. [ONLINE] Available at: https://www.axiapr.com/blog/your-communications-audit-in-5-easy-steps. [Accessed 14 October 2018].
14 Krut, M. 2019. 5 Key Questions for Your External Communication Audit. [Online]. [14 March 2019]. Available from: https://www.sogosurvey.com/blog/5-key-questions-for-your-external-communication-audit/
15 Licea, A. 2016. Here are 5 steps to help you conduct an effective communications audit for your organization. [Online]. [14 March 2019]. Available from: https://medium.com/@alexlicea82/here-are-5-steps-to-help-you-conduct-an-effective-communications-audit-for-your-organization-1b902d163e67
Details
Seiten

32

Jahr

2019

ISBN (eBook)

9783346236920

ISBN (Buch)

9783346236937

Sprache

Englisch

Katalognummer

v917025

Note

70

Schlagworte