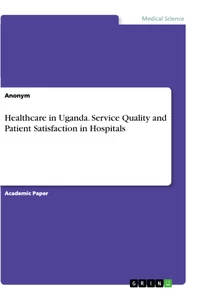 Healthcare in Uganda. Service Quality and Patient Satisfaction in Hospitals
Akademische Arbeit 2020 73 Seiten
Leseprobe
Inhalt
CHAPTER ONE: GENERAL INTRODUCTION
1.1 Introduction
1.2 Background of the Study
1.3 Statement of the Problem
1.4 Objectives of the study
1.5 Research questions
1.6 Scope of the Study
1.7 Significance of the Study
1.8 Justification of the Study
1.9 Conceptual framework
1.10 Definition of Key Terms
CHAPTER TWO: LITERATURE REVIEW
2.1 Introduction
2.2 Theoretical Review
2.3 Conceptual Review
2.4 Patient Satisfaction
2.5 Actual Review
2.6 Moderating Variables
2.7 Gaps in Literature
2.8 Conclusion
CHAPTER THREE: RESEARCH METHODOLOGY
3.0 Introduction
3.1 Research Design
3.2 Area of Study
3.3 Study Population
3.4 Sample Size and Sampling Techniques
3.5 Data Sources
3.6 Data Collection Methods and research Instruments
3.6 Quality Control
3.7 Measurement of Variables
3.8 Data Analysis Techniques
3.9 Ethical Considerations
3.10 Limitations to the study
3.11 Conclusion
References
Books
Journals
Articles
QUESTIONNAIRE
INTERVIEW GUIDE
CHAPTER ONE: GENERAL INTRODUCTION
1.1 Introduction
We found the hospital has no running water; the theatre is dysfunctional while electricity only visits. A nurse gave me two options: either to pick drugs after two days because the drugs were out of stock, or buy them from private clinics. These and many more are some of the challenges faced by patients who access a number of hospitals in Uganda. Who will heal Uganda's ailing health care system remains a key question yet to be answered. Therefore, this study shall focus on health care service quality and patient satisfaction in Uganda. This Chapter covers the background to the study, statement of the problem, objectives of the study, research questions, scope of the study, significance of the study, justification, the conceptual framework and definition of key terms and concepts.
1.2 Background of the Study
1.2.1 Historical background
The history of healthcare service quality dates back to the year 1913. Quality assessment began during a remarkable period of reform within the medical profession. The American College of Surgeons (ACS) was founded in 1913 to address great variations in the quality of medical education and the competence of physicians. By 1917, the ACS developed the Hospital Standardization Program (HSP). HSP was a set of uniform, high standards to apply to physicians practicing at hospitals seeking the distinction of achieving the standards. By the mid-1930s, only about half of hospitals seeking HSP distinction achieved it, and failure was not dishonorable. The unit of quality assessment under HSP was peer case review. Properly conceived and executed, this process can be a valuable learning experience. Following a death or other adverse outcome, physicians gathered to review the record and discuss the case. They assessed whether the outcome might have been preventable. Literature of the period suggests this learning-based model of quality assurance successfully improved hospital standards throughout the early decades of HSP.
Prior to 1960 there was still a fragmented collection of unrelated events rather than a streamlined organized effort. To appreciate how these events have evolved as the foundation for healthcare quality improvement, broad categories have been developed to identify global innovations in Europe, Asia and The United States (U.S.). Much of the history is so embedded in day-to-day medical-surgical practice and Quality Improvement Activities (QIA's) that it is taken for granted. Undoubtedly there will be familiarity with some, but not all of the events discussed (Gladwell, 2000)
Malcolm Gladwell's theory of Tipping Point (Gladwell, 2000) ideas, behaviors and messages is utilized to help navigate these events in an orderly fashion and provide structure and framework to the history of healthcare quality. Tipping Points are the phenomenon that precepts change before it becomes a norm. Gladwell identifies that Tipping Points depend heavily on people with a set of rare social gifts. Florence Nightingale was such a person;therefore the history of healthcare quality begins with her.
In 1854, British troops fought in Crimea and the surrounding area to force Russians to leave the Turkish territories of Moldavia and Wallachia. Cholera and diarrhea were responsible for a great deal of mortality among the British troops, and the British government sent a group of nurses to accompany Florence Nightingale to Turkey to help care for the soldiers. Within six months of the arrival of Florence Nightingale, the mortality rate from disease dropped from 42.7% to 2.2%. Some of Nightingale's specific improvements were, the reduction of overcrowding (beds had to spaced three feet apart), provision of ventilation, the removal of Calvary horses that were being stabled in the hospital basement, assuring the sewers leading from the hospital were flushed several times a day and disinfecting the latrines/drains with peat charcoal (Nightingale, 1863).
Nowadays, Healthcare is the fastest growing service in both developed and developing countries (Dey et al., 2006). In the recent years, health systems have changed the way of thinking and delivering care: patients have become the center of the overall process and new organizational models are being applied in order to provide patient-oriented services. The mission of health systems has expanded to meet the population's health needs and expectations regarding how patient should be treated by providers. Strategies focused on service quality have been developed since the year 2000s (WHO, 2000). In this context, patient's feedback has become an important source to evaluate the capability of health systems in order to respond to patients' needs.
The Press Ganey company was started in 1985 by two Notre Dame professors, Irwin Press and Rod Ganey. Press (a medical anthropologist) and Ganey (a sociologist and statistician) created a new market by applying reliable survey design and administration to healthcare. As Press Ganey's influence grew, hospitals began to realize the importance of being able to quantify, track and compare their patients' levels of satisfaction with the care they received. Demand continued to increase for these types of survey services, and additional firms such as Gallup, NRC, PRC, HealthStream, and Avatar entered the market. As the use of patient surveys spread throughout hospital departments, survey companies began to offer advice on how to improve patient satisfaction. Eventually, the interest in and efforts towards improving patient satisfaction caught the attention of the federal government and led to the first federally-backed survey of patient satisfaction, called HCAHPS.
1.2.2 Theoretical background
The study will be guided by three (3) theories of the expectancy disconfirmation theory, Donabedian's Theory and the serviqual model theory.
1.2.2.1 Expectancy disconfirmation theory
During the 1970's a number of authors culled theoretical constructs and empirical data from a variety of disciplines to arrive at a conceptual understanding of consumer satisfaction (Day, 1977; Locker & Dunt, 1978; Oliver, 1977; Olshavsky & Miller, 1972; Olson, 1979). Contributions came from fields that included marketing theory, psychology, social science research, and business management. Out of this consolidation of theoretical and empirical research the expectancy-disconfirmation paradigm became the dominant model used to explain satisfaction.
According to expectancy disconfirmation theory, satisfaction is defined as a consumer's judgment that a product or service provided a pleasurable level of consumption-related fulfillment (Oliver, 1980). Satisfaction is determined by consumers' pre consumption expectations about a product or service and expectation disconfirmation. Expectations are forward-looking beliefs concerning the service encounter and reflect patient perceptions of the telemedicine encounter prior to receiving this service. Prior expectations represent a baseline standard of comparison or comparative referent, to form post consumption judgments. In other words, the observed performance of service post consumption only has meaning if it is compared to some baseline standard, the a priori expectations (Oliver, 1980). Expectations can be influenced by prior perceived experience and communication messages from salespeople, physicians, nurses, other personnel, and social referents (Oliver, 1980). .Expectation disconfirmation is defined as the difference between the pre consumption expectations and post consumption observed performance (Oliver, 1980). Positive disconfirmation results when the observed performance of the service exceeds pre consumption expectations (i.e."better than expected"); negative disconfirmation results when the observed performance of the service falls below pre consumption expectations (i.e. worse than expected ). Both expectations and disconfirmation jointly positively predict consumer satisfaction.
1.2.2.2 Donabedian's Theory
Donabedian's (2005) three components approach for evaluating the quality of care are structure, process and outcomes. Measurement for improvement has an additional component – balancing measures. Donabedian believed that structure measures have an effect on process measures, which in turn affect outcome measures.
Outcome measures reflect the impact on the patient and demonstrate the end result of your improvement work and whether it has ultimately achieved the aim(s) set. Examples of outcome measures are reduced mortality, reduced length of stay, reduced hospital acquired infections, adverse incidents or harm, reduced emergency admissions and improved patient experience.
Process measures reflect the way hospital systems and processes work to deliver the desired outcome. For example, the length of time a patient waits for a senior clinical review, if a patient receives certain standards of care or not, if staff wash their hands, recording of incidents and acting on the findings and whether patients are kept informed of the delays when waiting for an appointment while Structure measures reflect the attributes of the service/provider such as staff to patient ratios and operating times of the service. These are otherwise known as input measures. The Balancing measures reflect unintended and/or wider consequences of the change that can be positive or negative. It is about recognizing these and attempting to measure them and/or reduce their impact if necessary. An example of a balancing measure would be monitoring emergency re-admission rates following initiatives to reduce length of stay.
1.2.2.3 Serviqual model theory
Parasuraman developed the SERVQUAL model from the early 1980s to 1998. His collaboration with Berry and Zeithaml began in 1983 and prior to their seminal 1988 Journal of Retailing (JR) article, Parasuraman et al. published a conceptual paper in 1985 identifying five service quality gaps. This framework is recognized today as a major contribution to the marketing literature.
The SERVQUAL scale was developed following procedures recommended for developing valid and reliable measures of marketing constructs (Asubonteng, Mc Cleary & Swan, 1996:64; Brown, Churchill & Peter, 1993:129). The article in 1985 that set the scene for SERVQUAL, conceptualized service quality as a gap between customers' expectations and perceptions (Parasuraman et al., 1985). They conducted an exploratory study to investigate the concept of service quality. Interviews with business executives from four different service industries were conducted and these interviews led them to conclude that there are discrepancies (gaps) between what management believes service quality constitutes and what customers believe service quality is. This set of gaps was seen as the major obstacles in attempting to deliver a service which customers perceive as being of high quality (Parasuraman et al., 1985:44).
1.2.3 Contextual background
Globally, issues related to healthcare service quality are crucial to any health system. Many researchers have associated the quality of healthcare service with patients" expectations and perceptions of quality, stating that the quality of services is the ability to meet the customers/patients expectation (Pui-Mun, 2006). Evans and Lindsay (2006) defined the quality of healthcare service as all characteristics of the service related to its ability to satisfy the given needs of its customers. Therefore, a survey of patients' opinions regarding the provided service is one of the main tools to measure the quality of healthcare services. There is a general agreement that patient satisfaction is an essential component of service quality (Säilä, 2008). Furthermore, patient satisfaction is the critical issue for healthcare providers. Health care organizations are working in a competitive environment. In these days hospital needs to enhance the level of satisfaction if they want to remain in the competition with other hospitals. Patient satisfaction is basically satisfying patients' expectations and understanding their needs. Patients' feedback can affect the overall quality, to improve organizational learning and development agenda and provide an opportunity (Raheem & Khoso Imamuddin, 2014).
African countries are increasingly showing interest in improving quality of health care, with emphasis on outcome as a measure of quality (Al-Sabir 2011). For example, Zambia started a national quality assurance programme in 1994 ahead of other African countries (Kyeremeh, 2017). The South African National Policy on Quality in Health Care (2014) provides means of improving the quality of care in public and private sectors, sets objectives of government to assure quality and continuously improve health care by measuring the gap between standards and actual practice (Mseleku, 2007). The ministry of health in Ghana has implemented the national health quality program as the key objective to improve the quality of health care in the country (Bannerman, 2017). The Nigerian health ministry is improving access to quality health services by establishing a quality assurance system (Kyeremeh, 2017).
In East Africa patients often express a preference for private sector services due to a perceived sense of higher quality compared to the public sector on metrics such as cleanliness, convenience, wait times and friendliness (Healthcare Innovation in East Africa report, 2017). However, east African governments and multinational corporations seek to identify and evaluate novel approaches to affordable, quality healthcare to ensure that patients are satisfied (Healthcare Innovation in East Africa report, 2017). For example, The Rwandan private health sector is working with partnership with the public sector to improve the quality of health care delivery (Bowers & Koehler 2018). Furthermore, Kenya recently in 2015 devolved their health system so that decision-making now sits at the county level, rather than at the national level. This has given healthcare innovators in the region the opportunity to engage more easily with the public sector to improve quality in the Kenyan health sector (Mikaya E, 2013).
In Uganda, the health sector has received complaints about the poor quality of service across all health services including Maternity, Immunization, HIV counseling, and Dental services. (MOH Customer Satisfaction Assessment Report, 2016). These complaints have been on unethical practices, lack of physical comfort, unclean and unsafe environment, staff hostility and negligence, staff mistreating patients, gender discrimination, drug shortages, inadequate number of staffs and staff absenteeism (MOH, 2018). The Government of Uganda has invested in a variety of social and administrative innovations to improve the quality of healthcare service delivery (Ministry of Health report, 2016). Examples include: the centralization of medicine procurement and distribution through the National Medical Stores (NMS); increased funding for essential medicines and health supplies; the embossment of medicines to ensure authenticity and; establishment of the Medicines and Health Services Monitoring Unit (Ministry of Health report, 2016). Therefore this study will focus on determining whether the initiatives by the government have to improve the quality of health services have satisfied patients across all public health centers using Kisenyi Health Center IV as a reflection of all public health centers.
1.2.4 Background to the Case study
Kisenyi Health Center IV is situated on Mwanga II road, Musajjaalumbwa, Mengo Parish, Central division, Kampala. It started as a prison for Buganda Kingdom until 1966 during the Buganda crisis when kingdoms were overthrown by H.E Milton Obote regime. It was run by Milton Obote I soldiers until 1971 before Kampala City Council (now Kampala Capital City Authority) took it over and upgraded it to its current status of a Health Centre IV. It is estimated to be serving a population of 563,067 clients annually. It also serves the three zones of Kisenyi (I, II, III), Mengo, Lubiri and surrounding places (Kisenyi Health Center IV Annual Reports, 2010-2012). The health centre has a total number of 106 staff of which 96 are Doctors, Clinical officers, Nurses and10 support staff and offers the following services: HIV/AIDS care and management, Treatment OIs, EMTCT, Family Planning, HIV Counseling Testing (HCT) and provide ART, Safe Male Circumcision (SMC), and Adolescent Care and Support.
This Health Center was chosen as the case study for this research due to the fact that a number of patients who have accessed this health center have complained about the poor service delivery coupled with the lack of modern medical equipment, shortages of basic and essential drugs, few doctors and nurses, absenteeism of doctors, delays in provision of services etc (Kisenyi Health Center IV Annual Reports, 2010-2012).
1.3 Statement of the Problem
Kisenyi health center IV has made a number of improvements in the service quality. For instance, in 2018, the Health Center adopted strict timelines for handling patients with the developed patient service charter, put in place modern medical equipment, established emergence numbers, introduced new services such as counseling, increased the number of doctors and nurses on duty, amongst others. Despite the innovations established by Kisenyi Health Center IV, there still exist complaints from patients regarding the lack of physical comfort, unclean and unsafe environment, staff hostility and negligence, staff mistreating patients, gender discrimination, drug shortages, inadequate number of staffs and staff absenteeism (Awatta & Kasule, 2018). Furthermore there have been complaints about stock outs of medicines, Shoddy work in health infrastructure, poor governance and poor communication, and Diversion of funds and drugs to private clinics (MOH Strategy for Improving Health Service Delivery 2016-2021). Therefore this study will aim at establishing the effect of healthcare service quality on patient satisfaction
1.4 Objectives of the study
1.4.1 Major Objective
To examine the relationship between Health Care Service quality and Patient Satisfaction in public health centers.
1.4.2 Specific Objectives
i. To establish the effect of reliability on patient satisfaction in public health centers.
ii. To establish the effect of tangibility on patient satisfaction in public health centers.
iii. To assess the effect of responsiveness on patient satisfaction in public health centers.
1.5 Research questions
i. What is the effect of reliability on Patient Satisfaction in public health centers?
ii. What is the effect of tangibility on Patient Satisfaction in public health centers?
iii. What is the effect of responsiveness on Patient Satisfaction in public health centers?
1.6 Scope of the Study
Mugenda & Mugenda (2008) classifies the scope into conceptual, geographical and time scope. The conceptual scope defines the concepts that will be covered, geographical scope covers the area that will be covered by the study and time scope entails the time that will be taken to carry out the study and the time period of the published secondary data that will be used as reference in the study.
1.6.1 Content scope.
The study will focus on healthcare service quality as the independent variable. This will mainly focus on three (3) variables: reliability, responsiveness and tangibility in the health care system as justified by Parasuraman,(1995) as the key variables for healthcare service quality. Patients' satisfaction as the dependent variable will focus on reduced complaints, referrals, patient loyalty.
1.6.2 Geographical scope
The study will be carried out at Kisenyi Health Center IV. This is located in Mwanga II Rd, Kampala district. This case study was chosen because it is one of the public health centers where complaints have been raised. Therefore using this particular geographical scope will act as a reference to all health centers in different geographical locations across the country.
1.6.3 Time scope
Data collection will involve review of academic journals and reports from the period of 2015-2019 because problems of the research have been rising with in this period compared to the previous years. However, the study will be successfully completed in a period of one year. This will include data analyzing, interpretation and submission of printed copies for other users.
1.7 Significance of the Study
The study will be of benefit to the academic world as it is expected to add to the existing body of knowledge and understanding of healthcare service quality and how it can be implemented to enhance patient satisfaction. In addition, those in the academic world will be able to get reference material on the relationship between healthcare service quality and patient satisfaction. It may also form part of the known literature on healthcare service quality that can be used in academic research. Furthermore the study findings will add value to the pool of knowledge on the shelves of university libraries and will act as a ground for further research in the area of health.
Moreover, the study is specifically designed to assist the management of Kisenyi health center IV acknowledge the status of the organization in terms of service quality and thus aid them in decision-making processes. Managers would readily adapt to the provision of quality services to realize enhanced patient satisfaction. Also the research findings may help the government in identifying gaps existing in the health sector hence will help in drafting appropriate policies. The government will be in position to initiate programs that will aim at improving the health status of not only the Kisenyi health center but all health centers across the country.
This study may also be of benefit to the patients as it will help them determine the quality of services provided by the health center in comparison to other health facilities.
1.8 Justification of the Study
The study is justified to the fact that Kisenyi health center IV was mandated to serve citizens in a bid to decongest the National Referral Hospital (Mulago) but little has been done towards achieving the above mandate since patients that access the services complain about the quality of service delivery and time they do spend in the emergency ward without doctors working on them (KCCA health report, 2018).
The study is also justified by the fact that the Uganda Ministry of Health has initiated strategies (MOH, 2018). These strategies include; the centralization of medicine procurement and distribution through the National Medical Stores (NMS); increased funding for essential medicines and health supplies; the embossment of medicines to ensure authenticity and; establishment of the Medicines and Health Services Monitoring Unit, National health insurance sector and decentralization to improve quality of health service delivery and increase health care service utilization but there are still complaints of poor quality healthcare services in public health centers across the country (MOH report, 2018).
The study is also justifiable to the fact that Patient satisfaction is a central concept and critical goal in the healthcare industry. This study will explore the impact of healthcare service quality had towards improving patient experience through improved service quality and strengthening re-purchase intention of patients.
1.9 Conceptual framework
A conceptual framework can be defined as a set of broad ideas and principals taken from relevant fields of enquiry and used to structure a subsequent presentation (Rachel &Ramey 1987).It shows the relationship of concepts, variables and ideas. It is an intellectual representation of some aspect of reality that is derived from some observations made from phenomena (Hershman & Orlander, 2007). It helps connect ideas to achieve the research objective.
Figure 1 : Conceptual framework
Independent Variable Dependent Variable
Service Quality Patient Satisfaction
Abbildung in dieser Leseprobe nicht enthalten
Source: Modified by the researcher (2020), guided by Parasuraman (1995)
The conceptual framework drawn from Parasuraman (1995) which shows that patient satisfaction with healthcare services is dependent on service quality. Service quality has three indicators of reliability which focuses Timeliness, Consistency, Regularity, and Accuracy. Tangibility which focuses on physical facilities of the hospital, medical equipment, and appearance of the medical personnel. Responsiveness which focuses on prompt attention, autonomy and confidentiality. Healthcare service quality and patient satisfaction is moderated by government health policies. It is therefore hypothesized that a poor service quality will lead to patient dissatisfaction leading to their likely drop out and low success rates in treatment in the country. However the relationship between service quality and patient satisfaction could be affected by government health policies that intervene to ensure quality in the health system to achieve patient satisfaction. Patient satisfaction has three indicators/dimensions of reduced complaints, referral and patient loyalty.
1.10 Definition of Key Terms
Health care service quality: This is the provision of care that exceeds patient expectations and achieves the highest possible clinical outcomes with the resources available (Ovretveit & Twonsend, 2012). In the study opinion, health care service quality is the provision of services according to the regulatory standards.
Reliability: This is the ability to perform the promised health care service dependably and accurately (Nguyen, 2012).
Tangibility: This determinant is related to the appeal of facilities, equipment and material used by a service firm as well as to the appearance of service employees (Zaim et al., 2010). Tangibility in this study refers to the appearance of physical facilities, equipment, appearance of health care workers, and communication materials used in offering healthcare services.
Responsiveness: this is the ability of the health system to meet the populations' legitimate expectations regarding their interaction with the health system (WHO, 2000). Responsiveness in this study refers to the willingness of the health care workers to help patients and provide prompt service.
Health Centre. Zeithaml, & Berry, 2002 define a Health centre as a community-based and patient-directed organization that delivers comprehensive, culturally competent, high quality primary health care services
Patient satisfaction: This is the appraisal, by an individual, of the extent to which the care provided has met that individual's expectations and preferences (Brennan 2015). To the researcher`s understanding, patient satisfaction is meeting patients' expectation.
Patient loyalty: is a personal aim of the patient on sustaining the relationship with a service provider and purchasing or having the next service from the same one (Jones and Taylor, 2005).
Referral: refers to sending another person to a given facility to utilize the service by a patient, which is seen as a sign of approval.
1.9 Conclusion
Chapter one has established the fundamental basis on which other chapters of the study will rely. This chapter has set out the background to the study detailing the problem and conceptual framework. The study sets out to conduct a comparative analysis of service quality and patient satisfaction in public health centres.
[...]
Details
Seiten

73

Jahr

2020

ISBN (eBook)

9783346262721

ISBN (Buch)

9783346262738

Sprache

Englisch

Katalognummer

v932228

Institution / Hochschule

Uganda Christian University

Note

Schlagworte