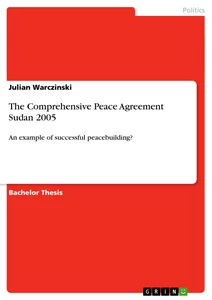 The Comprehensive Peace Agreement Sudan 2005
An example of successful peacebuilding?
Bachelorarbeit 2007 30 Seiten
Leseprobe
Content
Introduction
1. Comprehensive Peace Agreement and Peacebuilding Theory
1.1 Peacebuilding, Peacekeeping, Peacemaking
1.2 Track 1 Mediation and the CPA
1.3 CPA and Creating Sustainable Peace
1.4 Protocol/ Agreement Analysis
1.4.1 Machakos Protocol
1.4.2 Power Sharing
1.4.3 Wealth Sharing
1.4.4 Security Arrangements
1.5 CPA Paperwork Weaknesses
1.6 Assessment of CPA Paperwork
2. Comparison Addis Ababa Accords/ Comprehensive Peace Agreement
2.1 Introduction Addis Ababa Accords
2.2.1 Provisions of the Addis Ababa Accords
2.2.2 Security
2.2.3 Economic Regulations
2.2.4 Border Demarcation
2.3 Reasons for Addis Ababa Accords Failure
2.4. Addis Ababa Accords v.s. Comprehensive Peace Agreement
2.4.1 Differences of Economic Provisions
2.4.2 Border Demarcation
2.4.3 Evaluation
3. Implementation Process of the Comprehensive Peace Agreement
3.1 Implementation Development
3.1.1 Security and Other Armed Groups
3.1.2 The Oil-Issue
3.1.3 Border Demarcation
3.1.4 Role of the National Congress Party
4. Conclusion and Future Outlook
4.1 Political Situation of the Sudan
4.2 Future Outlook
List of Acronyms
References
Introduction
The signing of the Comprehensive Peace Agreement (CPA) in Nairobi on January 9, 2005 was described as "a historic moment of great opportunity for the country" by then-United Nations Security Council President Joel Adechi of Benin.1 The CPA received wide international approval and was praised as a promising chance to end one of Africa's longest and fierce civil wars.2 Since the end of British colonialism in 1955, the largest country in Africa by area has been a constant stage for scenes of violence, death and suffering for its own people as well as its neighbouring countries. More than two million people have been killed and about the same number is said to be a realistic estimate of internally displaced persons (IDPs) during the course of Sudan's wars.3
A complicated and extremely unstable network of internal and external stakeholders has developed in the various regional conflicts of the Sudan.4 They range from war-lords, religious leaders/groups, politicians, international governments to multinational corporations. The CPA was designed to resolve the civil war between the predominantly Islamic North and the South, consisting mainly of various ethnic and religious groups with other than Arab- Islamic descent.5 At the end of a six year interim-period the CPA comprises a referendum in 2011. It will decide whether the country will be divided amongst a north-south border with two independent countries, or whether a politically and economically united Sudan will be the future for its people. Recent monitoring reports have revealed a negative commitment tendency from the North, which continuously threatens the success of the implementation process of the CPA.
The main objective of this paper is to analyze and evaluate the current status of the peace- process and the implementation of the CPA as a tool for peacebuilding in Sudan at a time where its success seems to be at serious jeopardy. It is not designed to give an in-depth analysis of all conflicts in connection to the Sudan, e.g. Darfur or the East. It should be made clear that the paper approaches an extremely complicated and fragile post-conflict situation composed of an unstable and fugacious network of key players. Due to the papers limits in length, priority will not be put on thoroughly identifying and explaining the importance of all other armed groups (OAGs) involved in the conflict, without failing to recognize their existence and importance. The main focus will be put on the parties which signed the CPA as the official representatives of North and South, the National Congress Party (NCP) and the Sudanese Peoples Liberation Movement/Army (SPLM/A). The central research question this paper constitutes has three main parts. First, the question is whether the CPA has the formal quality and extensiveness in its paperwork to effectively conduct a peace process. The second part of the question is whether the implementation process is effective, punctual and progressive with visible results that indicate a realistic chance for sustainable peace in the Sudan. This part will be analyzed with special focus on the general degree of commitment which the former conflict parties display. The outcome will put special focus on the type of impact which the Northern Government has had on the peace process so far. The last part discusses chances and possible reasons of a future return to armed conflict between the parties.
The paper is divided into three distinct parts, of which each explores, explains and evaluates different components of the subject. First, the term "peacebuilding" is to be defined and explained as an independent field in the theoretical and practical science of peace and conflict studies. This section also includes a short introduction to the paperwork of the CPA, which comprises eight different protocols and agreements. In order to scientifically approach the topic this part will include a brief discussion of key concepts in "peacebuilding" as a theoretical discipline. The debate will focus on analyzing and explaining general concepts of the CPA with special focus on Reychler's theoretical approach to peacebuilding theory.6 The objective is to single out successful/unsuccessful examples of peacebuilding-methods in the CPA and discuss possible consequences for the implementation process.
Next, the CPA is compared to the Addis Ababa Accords (AAA) from 1972, which managed to secure peace between north and south Sudan until 1983. The results of the diachronic comparison should help to indicate in which areas the CPA has improved and/or adopted certain aspects of this former peace agreement. A key question which is to be discussed is to what extent the CPA is composed of the similar concepts as the AAA, considering the parity of the conflict-parties involved. The question leads to the central debate whether the AAA contained concepts worth reapplying in the CPA, or whether its composition and implementation process was bound to fail as an attempt to create sustainable peace. The outcome of this comparison will help explain in which areas the CPA might be able to bring sustainable peace to this specific conflict in the Sudan and which areas are facing the danger of repeating similar mistakes as the AAA. The comparison will explore four key areas of both peace agreements: security, economic development, border demarcation, and political regionalization.
The third part is dedicated to giving an overview of the current situation of the North-South peace process. It will discuss and analyze the overall development of the peace process since the signing of the CPA in 2005. Central weaknesses of the CPA's implementation process are to be identified. These key areas will be: security instability due to the presence of OAGs; issue of border demarcation; the status question of Abyei; oil-revenue sharing; and the general negative attitude towards the CPA implementation by the NCP. Additionally, assessments from independent international observers will be introduced.
The conclusion includes a brief overview of the current political situation in the country. It will also provide an outlook for possible future development scenarios in the peace process. A central question will be whether secession is theoretically possible after the referendum in 2011, without re-emergence of armed conflict. This part will attempt to offer possible scenarios that might have a positive influence on the peace process in the future.
1. Comprehensive Peace Agreement and Peacebuilding Theory
1.1 Peacebuilding, Peacekeeping, Peacemaking
The term "peacebuilding" has developed into a key word when international organizations,
such as the United Nations, embark upon strategies to operate in post-conflict societies. In his "Agenda for Peace" (1992) UN Secretary General Boutros-Ghali referred to peacebuilding as a key instrument in securing world peace. Chapter 6 of the document states:
"(57.) In surveying the range of efforts for peace, the concept of peace-building as the construction of a new environment should be viewed as the counterpart of preventive diplomacy, which seeks to avoid the breakdown of peaceful conditions […] Preventive diplomacy is to avoid a crisis; post-conflict peacebuilding is to prevent a recurrence."7
Clearly formulating a definition of peacebuilding will be helpful in determining central components of the CPA as an "outline" for post-conflict peacebuilding in the Sudan. The academic field of peace and conflict has developed a wide analytical approach towards the subject. In this context it is helpful to clearly distinguish peacebuilding from similar concepts of the same discipline. Peacebuilding is often placed in the same category as "peacemaking" and "peacekeeping", which leads to a misconception of the theoretical meaning the concepts comprises. The Agenda for Peace defines "peacekeeping" as: "(20) the deployment of a United Nations presence in the field,
hitherto with the consent of all the parties concerned, normally involving United Nations military and/or police personnel and frequently civilians as well. Peace-keeping is a technique that expands the possibilities for both the prevention of conflict and the making of peace."8
The term "peacemaking" has been identified as "the process of forging a settlement between the disputing parties […] which can be done in direct negotiations with just the two disputants, it is often also done with a third-party mediator, who assists with process and communication problems, and helps the parties work effectively together to draft a workable peace accord."9 Unlike the previous two concepts, "peacebuilding" traditionally focuses on a different time segment in conflict-resolution strategies since it is usually devoted to long-term stabilisation in a "post-conflict society".10 Fetherston defines peacebuilding as: "[…] a positive, continuous co-operative human endeavour to build bridges between conflicting nations and groups. It aims to enhance understanding and communication and dispel the 'wandering rocks' of distrust, fear and hate."11
Boutros-Ghali enhanced his previous definition in the Agenda for Peace, 1992: "When conflict breaks out, mutually reinforcing efforts at peacemaking and peace-keeping come into play. Once these have achieved their objectives, only sustained, cooperative work to deal with underlying economic, social, cultural and humanitarian problems can place an achieved peace on a durable foundation."12 This last part of the definition clearly distinguishes peacebuilding as a concept predominantly designed for "post-conflict situations", whereas peacemaking and peacekeeping operations frequently encounter active combat situations.13 However, some definitions also describe "civil peacebuilding" as "[…] all civil measures taken before, during or after a violent conflict […]"14 This diversity in definitions is the result of the establishment of a variety of interchangeable terms, such as conflict resolution, conflict transformation and peacebuilding.15 This paper will refer to peacebuilding strictly as a concept for a post-conflict society. In this sense peacebuilding has a completely different approach and design in terms of its objectives, agendas and mandate compared to peacekeeping and peacemaking.16 A supporting example would be the fact that peacebuilding is usually constituted as a cooperation of local, internal and external multilateral military personnel, NGO's and monitoring units with the goal of improving security and economic development.17 Peacekeeping and peacemaking, on the other hand, primarily focus on military monitoring presence with a much smaller emphasis on other supporting personnel (see Schneckener 2005: 19).
1.2 Track 1 Mediation and the CPA
In terms of a scientific and theoretical peacebuilding-approach the CPA should be seen as a "tool" designed by international mediators and the Sudanese parties involved to implement a variety of peacebuilding strategies and policies after the ending of an intrastate conflict. The term "intra state conflict" refers to a violent armed conflict, which is termed "civil war" in this paper.18 According to scientific literature intra state conflict can involve issues such as secessionism, autonomy or religion.19 Various internal and external actors have been involved in negotiating the CPA. The two main Sudanese parties involved in the mediation process where the northern Government of Sudan (GOS), led by President Omar Al-Bashir and the southern Sudan People's Liberation Movement/Army (SPLM/A) under the leadership of John Garang.20 The talks were held under the patronage of the Intergovernmental Authority on Development (IGAD).21 Other international supporters involved were the United States, the United Kingdom, Norway, Italy and the United Nations.22
The evolving of the CPA was the result of a conflict resolution strategy primarily using "Track 1 level mediators". "Track 1 mediators" are representatives from the state level or have state-like authorities, such as governments and international or regional organizations as mentioned above.23 In contrast "Track 2 mediators" are middle-range actors, such as academics, religious or ethnic leaders and NGOs.24 In theory Track 1 actors tend to mediate with the so-called "outcome-oriented approach": "The aim of this approach is to identify the representative leaders of the conflicting parties and to bring them together to negotiate or mediate a ceasefire and a peace accord."25
Mediation by states is practiced in the form of official or quiet diplomacy, with diplomats functioning as mediators. The outcome-oriented approach has been criticized by scholars for various reasons. Lederach argues that Track 1 mediators tend to concentrate solely on the top leadership of the conflicting parties in the negotiations (see Lederach 1997: 147). This critique has often been applied to the CPA, as many minor participants and actors in the North-South conflict have not been given any credibility in the CPA. Another related point of concern has been postulated by Hoffman, who states that the outcome-oriented approach overlooks deep causes of conflicts and thus cannot guarantee long-term stability.26 Bercovitch enhances the discussion with the argument that track-one mediation is often connected with the Determinants of Successful Mediation, in: Civil Wars, (P. 98-116) the fear of the affected government of losing sovereignty and to appear as being incompetent to handle own domestic affairs.27
1.3 CPA and Creating Sustainable Peace
The ultimate goal of peacebuilding is to transform conflicts constructively and to create a sustainable peace environment.28 By definition the term "sustainable peace" refers to: "[…] a situation characterized by the absence of physical violence; the elimination of unacceptable political, economic and cultural forms of discrimination; a high level of internal and external legitimacy or support; selfsustainability; and a propensity to enhance the constructive transformation of conflicts." (Reychler/Paffenholz 2001: 12) In its attempt to create a basis for sustainable peace between North and South Sudan the CPA included eight agreements and accords in its paperwork. These are designed to cover all aspects mentioned in peacebuilding theory (security, economy, political reorganization, society)29 to achieve sustainable peace and are listed below in chronological order30:
- The Protocol of Machakos (20 July 2002).
- The Protocol on security arrangements (25 September 2003).
- The Protocol on wealth-sharing (7 January 2004).
- The Protocol on Power-sharing (26 May 2004).
- The Protocol on the resolution of conflict in southern Kordofan/Nuba Mountains and the Blue Nile States (26 May 2004).
- The Protocol on the resolution of conflict in Abyei (26 May 2004).
- Permanent Ceasefire and Security Arrangements Implementation Modalities
During the Pre-Interim and Interim Periods (31 December 2004).
- Agreement on the Implementation Modalities (31 December 2004).
In this sense the CPA consists of a relatively large number of sub-agreements.
[...]
---
1 United Nations, Security Council President (2005): Press Release SC/8306 5120th Meeting. 08 February 2005. http://www.un.org/News/Press/docs/2005/sc8306.doc.htm 08/02/2005
2 International Crisis Group. Sudan's Comprehensive Peace Agreement: The Long Road Ahead. Africa Report Nr. 106, March 31, 2006 (P.i)
3 United Nations Mission in Sudan http://www.un.org/Depts/dpko/missions/unmis/background.html (04.07.2007)
4 de Waal, A. (2007): Sudan: International Dimensions to the State and its Crisis. Crisis States Research Centre, LSE, Houghton Street, London.
5 Johnson. Douglas H. African Issues: The Root Causes of Sudan's Civil Wars. Indiana University Press, February 2003 (Preface i)
6 Reychler, Luc/ Paffenholz, Thania 2001: Peace-Building: A Field Guide. Lynne Rienner Publishers Inc., USA, (P. 3-15)
7 United Nations, Secretary General (1994): An Agenda for Peace: Preventive Diplomacy, Peacemaking and Peace-keeping. Report of the Secretary General. U.N. Doc.
8 United Nations, Secretary General (1994): An Agenda for Peace: Preventive Diplomacy, Peacemaking and Peace-keeping. Report of the Secretary General. U.N. Doc.
9 Conflict Research Consortium, International Online Training Program On Intractable Conflict, University of Colorado, USA. http://www.colorado.edu/conflict/peace/treatment/peacemkg.htm (02.06.2007)
10 UN Secretary General 1994, (P.32-34)
11 Fetherston, A.B 1994: Towards a Theory of United Nations Peacekeeping, New York: St. Martin's Press, (P.132)
12 United Nations, Secretary General (1994): An Agenda for Peace: Preventive Diplomacy, Peacemaking and Peace-keeping. Report of the Secretary General. U.N. Doc.
13 Conflict Research Consortium, International Online Training Program On Intractable Conflict, University of Colorado, USA. http://www.colorado.edu/conflict/peace/!treating_overlays.htm#pkeeping (02.06.2007)
14 Friedrich Ebert Stiftung 2007: Crisis Prevention and Conflict Transformation: A Reader for the Staff Members of the International Division of the FES. Berlin/Bonn July 2007 ( P.10).
15 Friedrich Ebert Stiftung 2007: (P.11).
16 Schneckener, Ulrich. Frieden Machen: Peacebuilding und Peacebuilder. Stiftung Wissenschaft und Politik, 2005, Berlin ( P.20).
17 Schneckener, Ulrich. Frieden Machen: Peacebuilding und Peacebuilder. Stiftung Wissenschaft und Politik, 2005, Berlin (P. 20).
18 see Nathan, Laurie 1999: When push comes to shove. The failure of international mediation in African civil wars, in: Track Two, 8 (2): (P. 1-23)
19 Bercovitch, Jacob/Derouen, Carl 2005: Managing Ethnic Civil Wars: Assessing
20 International Crisis Group. Sudan's Comprehensive Peace Agreement: The Long Road Ahead. Africa Report Nr. 106, March 31, 2006
21 IGAD comprises the member states Ethiopia, Djibouti, Eritrea, Kenya, Somalia, and Uganda.
22 Hett, Julia. 2005: Frieden im Sudan? Das Comprehensive Peace Agreement vom 9. Januar 2005. Zentrum für Internationale Friedenseinsätze, Kurzanalyse, Berlin, (P.5)
23 Nan, Susan Allen 2003: "Track I Diplomacy". Beyond Intractability, in: Guy Burgess and Heidi Burgess (Eds.): Conflict Research Consortium, University of Colorado, Boulder. Posted: June 2003, http://www.beyondintractability.org/essay/track1_diplomacy/
24 Lederach, John Paul 1997: Building peace. Sustainable reconciliation in divided societies, Washington D.C.
25 Reychler, L./ Paffenholz, T. (2001): Peace-Building: A Field Guide. Lynne Rienner Publishers, Inc., USA, (P.77).
26 Hoffman, Mark. Konfliktlösungen durch gesellschaftliche Akteure. Möglichkeiten und Grenzen von Problemlösungs-Workshops. In Ropers and Tobias, Friedliche Konfliktbearbeitung in der Staaten- und Gesellschaftswelt, 284-303.
27 Bercovitch, Jacob/Derouen, Carl 2004: Mediation in Internationalized Ethnic
Conflicts. Assessing the Determinants of a Successful Process, in: Armed Forces & Society, 30 (2): 147-170.
28 Reychler, L./ Paffenholz, T. (2001): Peace-Building: A Field Guide. Lynne Rienner Publishers, Inc., USA, (P.12).
29 Friedrich Ebert Stiftung. Crisis Prevention and Conflict Transformation: A Reader for the Staff Members of the International Division of the FES. Berlin/Bonn July 2007. (P.10)
30 The Comprehensive Peace Agreement between the Government of the Sudan and the Sudan People's Liberation Movement/Army (Original Text). http://www.unsudanig.org/docs/Comprehensive%20Peace%20Agreement%20Between%20GOS%20and%20SP LM-A,%202004.pdf (21.05.2007)
Details
Seiten

30

Jahr

2007

ISBN (eBook)

9783638056533

ISBN (Buch)

9783638947695

Dateigröße

593 KB

Sprache

Englisch

Katalognummer

v93249

Institution / Hochschule

Freie Universität Berlin – Otto-Suhr-Institut für Politikwissenschaft

Note

1,7

Schlagworte