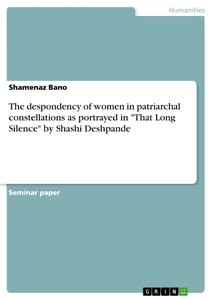 The despondency of women in patriarchal constellations as portrayed in "That Long Silence" by Shashi Deshpande
Seminararbeit 2020 10 Seiten
Leseprobe
The Despondency of Women in Patriarchal Construct as Portrayed in Shashi Deshpande's That Long Silence
Dr Shamenaz Bano, Assistant Professor, Department of English, RTMM, Allahabad, India
Abstract
Gender discrimination is a social stigma which has inflicted not only the Indian Society but social condition would once. Chauvinism is something which has affected the lives of every woman. Voices have been raised from time to time against it but have been curbed forcefully by the so-called contractors of the society, in the name of culture, religion and community.
Establishing gender justice and gender are the key aspects of the feminist movement. Equal rights for both the genders are not only the biological concern but a social necessity. Shashi Deshpande's quest for identity and freedom has become a dominant theme in her works. She is one of the leading novelists of contemporary Indian Society and has a distinct place as she consistently addresses the question of selfhood with its many ramifications in her novels. She has sensitively treated typical Indian themes and has successfully depicted the intricate emotions, dilemmas and conflicts of the contemporary Indian woman in her interactions with her male counterparts. Her concern is, in fact, for nothing less than the human predicament.
Keywords: Despondency, chauvinism, identity, dilemma, the human predicament
Introduction
Shashi Deshpande is an Indian novelist who has carved a niche not only in the Indian literary world but on the international front. The problem of adjustment with the husband and within the home has been the most consistent theme in the novels written by Deshpande. Her work reflects the conflict between tradition and modernity as manifested within the context of the family. She believes that the basis of all the problems hinges on the relation of man to woman.
The lopsided relationship of man to woman is the foremost cause of problems existing in society. This conflict and maladjustment are portrayed in the novels of Shashi Deshpande. In an interview with Geeta Gangadharan she stated:
Human relationship is what a writer is involved with. Person to person and person to society relationships – these are the two primary concerns of a creative writer, to me; the former is of immense importance. My preoccupation is with impersonal relationships and human emotions. (11)
Thus, the different relationships existing in a woman's life vis-à-vis men and how she deals with them are the central themes which she has discussed in her novels.
One of the aspects which she explores in her writings is the self-realization of middle-class Indian women. This self-realization of her women characters occurs from within, from what might be called domestic spheres, through the understanding and questioning of the domestic role, their relationships with men, their desires and so on. This is because she feels that "knowledge after all, always starts from within, it comes out of 'a fight' with oneself. " (11)
The theme that runs through her novel, That Long Silence is the autonomy and the striving for balance between the feminine and the feminist selves of the protagonists- Jaya. It is the story of Jaya's solitary crusade against the deafening silence that has entrapped the likes of her for generations. It is a story of a woman's intellectual self-grappling with her emotional self-involving a terrible painful honesty in the way she can see her own relationships with others. She thinks:
To achieve anything, to become anything, you've got to be hard and ruthless. Yes, even if you want to be a saint, if you want to love the whole world, you've got to stop loving individual human being first. And if they love you, and they bleed when you show them you don't love them, not especially, well so much the worse for them! There's just no other way of being a saint. Or a painter, a writer. (1)
In this novel, Jaya the protagonist is a failed writer. She comes to live in her Dadar flat after seventeen years of marriage when her husband Mohan's reputation is in question and he has been charged in a forgery case. A difference in opinion with her causes him to leave her for a while. Alone, Jaya is hunted by the memories of her past. Differences with her husband, frustrations in her seventeen years old marriage, disappointment in her two children, and the claustrophobia of her childhood – all begin to surface. In her small suburban Bombay flat, Jaya grapples with these and other truths about herself:
Self-revelation is a cruel process. The real picture, the real 'you' never emerges. Looking for it as bewildering as trying to know how you really look. Ten different mirrors show you ten different faces. (1)
She realizes she has kept silent throughout her married life and so is at least partly responsible for the unsatisfactory state of her marriage. In That Long Silence, there is an exceptionally accomplished portrayal of a woman trying to erase a 'long silence' begun in childhood and rooted in her being. The novel's strength lies in its compassion, its tolerance and understanding of human relationships.
Self-realization is an important aspect of Shashi Deshpande's work and is experienced by Jaya and she experience "Nosotros" or homecoming which begins a process of introspection. This leads her to a self-awareness not realized before. Coming back to her natal home does not provide her with womb-like security but helps her to raise questions which she had never dared to ask herself earlier.
Deshpande employs withdrawal as a tool for both introspection and self-realization for her protagonists. Jaya withdraws not into a world of fantasy, but a world away from the suffocating circumstances of her life. Unable to adjust to the social demands on her, she attempts a temporary psychological as well as sociological withdrawal. This then becomes a route through which she discovers herself and her potential. As Seema Jena says: "…the technique of withdrawal becomes a means by which a woman rediscovers her personality and digs up her potential and learns not to repress her talents." (10)
Jaya is not happy in her married life but she is trying to adjust and adapt herself according to the wishes of her husband. She strives to achieve happiness in her life but realize that neither love nor happiness comes to her for the asking. She even develops an intimate relationship with Kamat, who is her neighbour. However, she is unable to find a name for it. She ponders, "My relationships with this man...refused to take any shape at all; it just slipped about, frighteningly fluid". (151)
Jaya's husband Mohan is not able to understand her and discourages the writer in her. Kamat, on the contrary, understands her and fills the emptiness which has engulfed her, so she is inclined towards him. Jaya's association with Kamat, a widower living in the flat above hers lends yet another dimension to her personality. He is just the opposite of Mohan and a very sensitive man. However, what draws Jaya towards him is his intelligence, the fact that she can exchange ideas with him. He offers constructive criticism to Jaya on her writings. He understands her fears and even receives her mail at his address to help her avoid any confrontation with her husband. What attracts her, even more, is the fact that he is warm, friendly, and companionable. While others including Mohan, look down on her, he treats her as an equal, and is considerate and attentive:
With this man, I had not been a woman. I had been just myself –Jaya There had been an ease in our relationship I had never known in any other, she gratefully acknowledges. (153)
[...]
Details
Seiten

10

Jahr

2020

ISBN (eBook)

9783346264220

Sprache

Englisch

Katalognummer

v935468

Note

NA

Schlagworte