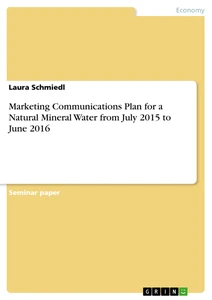 Marketing Communications Plan for a Natural Mineral Water from July 2015 to June 2016
Hausarbeit 2015 21 Seiten
Leseprobe
Table of Contents
1 Introduction
2 Marketing Audit for Evian
2.1 Overview of the Brand
2.2 Unique Selling Proposition
2.3 Current Advertising
2.4 Target Audience
3 Market Analysis
3.1 Market Drivers
3.2 PEST Analysis
3.3 Main Competitors
3.4 Market Outlook and Future Trends
3.5 SWOT Analysis for Evian
4 Marketing Communications Plan
4.1 The Overall Strategy and Objectives
4.2 Message Content
4.3 Communication Tools
4.4 Media
4.5 Budgeting
5 Comparison of Advertising in the UK and Germany
6 References
1 Introduction
Evian is a natural mineral water distributed in the United Kingdom by Danone Waters Ltd and sold in overall 143 countries. Danone is a multinational consumer goods company divided into four divisions – waters, baby and medical nutrition as well as fresh dairy products (MarketLine Industry Profile, 2014). Besides marketing international brands like Evian, Danone's water division also offers products under local brands like Fontvella in Spain (MarketLine Industry Profile, 2014). During the financial year 2014, Danone had sales of €21,114 million with its water division accounting for €4,186 million (Danone, 2015b).
This report will introduce the brand Evian and its marketing communications operations in the United Kingdom. Moreover, a marketing audit containing Evian's main competitors as well as a PEST and SWOT analysis will be conducted. Thereafter, an integrated marketing communications plan for the period from July 2015 to June 2016 will be presented. A comparison of Evian's advertising in the UK and Germany will follow the plan.
2 Marketing Audit for Evian
2.1 Overview of the Brand
Evian water is sourced from a spring in Evian-les-Bains in the French Alps and its benefits were first experienced in 1789 by the Marquis de Lessert who was cured from his kidney stones after drinking the water (Evian, 2015a).
Evian water can use the term natural mineral water in the UK because it meets the specifications of the British Soft Drink Association. According to these regulations natural mineral water "must come from a protected source and by law may not undergo any treatment except filtration to remove sand particles" (Mintel, 2015c) which Evian water complies.
The product range only comprises of unflavoured still water but comes in different sizes of PET bottles from 33cl to 2l with different caps (Evian, 2015d). Moreover, Evian offers glass bottles containing 750ml or 330ml as well as limited edition bottles that are designed by famous fashion designers like Jean-Paul Gaultier (Evian, 2015d). Besides selling natural mineral water, Evian also sells a facial spray.
The water can be found in many major grocery stores like ASDA, Tesco and Sainsbury's as well as in small and independent stores. Moreover, Evian water can be bought on-trade in many restaurants, bars and pubs. The prices on the off-trade market vary from £0.04 to £0.11 per 100ml depending on the size of the PET bottle and the cap while smaller on-the-go bottles with sport caps are most expensive (ASDA, 2015). Compared to competitors like Buxton, Highland Spring or ASDA's own-label water, Evian is almost twice as expensive whereas compared to Volvic and Pure Life the prices are nearly the same (ASDA, 2015).
2.2 Unique Selling Proposition
Evian's natural mineral water once fell as rain or snow in the French Alps and afterwards travelled for about 15 years during which it got filtered by glacier sand and enriched with minerals until it emerged at the spring (Evian, 2015e). Evian water acquires its purity and its "unique mineral balance" (Evian, 2015e) through this journey. Its mineral composition and low sodium content have remained consistent throughout all the years and make Evian natural mineral water a unique brand with a unique taste. The water is furthermore supposed to have a positive effect on human health and in 1878 even the French Academy of Medicine officially recognised the benefits of Evian (Evian, 2015a).
To preserve the purity of the water it is bottled at the source and remains untouched by man and is free of any chemicals (Evian, 2015e). In 1992, Evian created the Association for the Protection of the Evian Mineral Water Intake Area (APIEME) to protect the purity and quality of the water by working with local communities and farmers to improve the environment of the area (Danone, 2014a). This also underlines Evian's commitment to nature as well as the launch of the Water Protection Institute in 2007 which helps communities to protect and restore wetland resources and improve living conditions (Evian, 2015b).
2.3 Current Advertising
The message that Evian wants to deliver, besides having a unique and fresh taste, is that the water represents a source of youthfulness and purity. This is communicated through Evian's slogan `Live Young´. Being young at heart, which is the desire of many adults, is a central idea of that mantra and the advertising tries to link the fulfilment of this desire to consuming Evian water.
The first advertising containing this slogan was launched in 2009 and featured babies roller-skating through a park. This campaign was an enormous success and it even achieved a Guinness World Record for the most viewed online advertising video with 45 million views (Milosevic, 2013).
The `Baby Inside´ campaign from 2011 (see Figure 1) tried to convince consumers to embrace the baby inside them (Radic, 2011). Besides including a TV advert, the campaign also featured online activities and Evian even created an iPhone application where consumers were able to upload their own picture (Radic, 2011). In 2013, Evian brought the babies back to the screen by launching the `Baby & Me´ TV advertising (Mintel, 2014a). This ad "featured a number of adults dancing with the reflections of themselves as a baby in a shop window" (Mintel, 2014a) and became the most popular ad of 2013 in Great Britain. A year later the theme of the dancing babies was used again for a TV advertising called `The Amazing Spiderman and Me 2´ (Mintel, 2015a). This advert "coincided with the release of The Amazing Spider-Man 2: Rise of Electro film and featured a dancing baby Spiderman" (Mintel, 2015f).
Besides launching advertising campaigns, Evian also sponsors the Wimbledon Tennis Championship among others and usually creates Wimbledon-themed marketing campaigns each year (Danone 2015a).
Figure 1: Advertising Campaign in 2011
Abbildung in dieser Leseprobe nicht enthalten
Additionally, Evian annually launches a New Year campaign using social media like Facebook or Twitter, outdoor advertising and in-store presence through point of sales (Mintel, 2014a; Mintel, 2015a). Moreover, "Danone took advantage of the link between hydration and hot weather in 2014 by teaming up with Transport for London (TfL) in giving out 250,000 free bottles of Evian water" which resulted in a partnership until 2017 (Mintel, 2015e).
2.4 Target Audience
The main target group of Evian are health conscious adults of both sexes and all ages who know about the benefits of drinking Evian for their body. Due to the higher price per bottle compared to other competitors, Evian's target group has an average or high income. Evian's consumers attach great importance to the quality of the products they consume and are often also environmentally conscious and choose their brands accordingly.
Another important target group are mothers as Evian markets its products as especially suitable during pregnancy and breastfeeding due to its benefits (Evian, 2015c). Evian water is also a suitable basis for feeding-bottles and by adapting a teat to the 33cl bottle, it can even be turned into a baby bottle.
3 Market Analysis
During the last couple of years, bottled water has been very successful within the market of non-alcoholic drinks (Mintel, 2015c). "Volume and value sales have risen by 17% and 25% respectively between 2009 and 2014" (Mintel, 2015b) and reached 2.6 million litres and 1.9 million pounds in 2014 accordingly. Sales in the off-trade solely account for this massive growth, whereas the sales in the on-trade are declining (Mintel, 2015b).
Even throughout the years of economic downturn after 2009 the bottled water market has been resilient which demonstrates the consumers' willingness to "purchase these products despite their discretionary nature" (Mintel, 2015g).
Figure 2: Forecast of UK Value Sales of Bottled Water from 2009-2019
Abbildung in dieser Leseprobe nicht enthalten
3.1 Market Drivers
According to Mintel (2015e), two warm summers in 2013 and 2014 have boosted the sales in the bottled water market. Additionally, in 2014 a debate concerning the effects of sugar on obesity has gained "high-profile media coverage" and remains a "front-of-mind issue for consumers" (Mintel, 2015e). Not only are consumers more concerned with the content of sugar in drinks, but they buy fewer carbonated soft drinks and fruit drinks because of their high sugar content (Mintel, 2015e). This debate was another reason for the sales growth in 2014 and it can still work in favour of the bottled water market.
Other perceived benefits of bottled water are that it can be consumed on-the-go, purchased at a comparatively low price and it helps to improve the skin appearance (Mintel, 2015g). All of these factors contributed to the growth in sales.
When comparing the different segments of bottled water – still or sparkling water either flavoured or unflavoured and fortified water – one can see in Figure 3 that unflavoured still water has the highest share in value in the off-trade market with 62% (Mintel, 2015h). Although this type of water is competing mostly with tap water, it has managed to maintain a very strong position in the market presumably due to its convenience and the preferred taste over tap water by many consumers (Mintel, 2015h).
Figure 3: UK Value Off-Trade Sales of Bottled Water by Segment from 2012-2014
Abbildung in dieser Leseprobe nicht enthalten
3.2 PEST Analysis
Abbildung in dieser Leseprobe nicht enthalten
3.3 Main Competitors
All eight leading brands in the UK bottled water market experienced growth in value and volume sales during the last year, being the drivers of the total growth compared to own-label sales.
As can be seen in Figure 4, Volvic is the market leader in the UK with 20% followed by Evian, Buxton and Highland (Mintel, 2015f). For this reason as well as the joint distributing company Danone, Volvic is the main competitor of Evian and therefore the focal point of this report.
Volvic promotes its water as "having been filtered through six layers of volcanic rock" (Mintel, 2015f) which is also sourced from France. Besides offering natural mineral water, Volvic also has a range of flavoured waters called `Volvic Touch of Fruit´ including various tastes and sugar-free flavours as well as a `Juicy Volvic Juice´ range which is a blend of fruit juice and water (Danone, 2014b). The expansion of their flavoured water ranges in 2014 and strong marketing activity have contributed most to the success during the year and the sales increase of 14% (Mintel, 2015f). `Unstoppable Volcanicity´ was the slogan of the advertising campaign in 2014 that focussed primarily on the Volvic volcano as a source of power. This included a TV ad shown during prime time as well as a social media campaign on Facebook (Mintel, 2015f). Moreover, Volvic gained a three-year sponsorship deal with the Tough Mudder events in the UK (Mintel, 2015f).
[...]
Details
Seiten

21

Jahr

2015

ISBN (eBook)

9783346305237

ISBN (Buch)

9783346305244

Sprache

Englisch

Katalognummer

v956865

Institution / Hochschule

Anglia Ruskin University

Note

1,8

Schlagworte