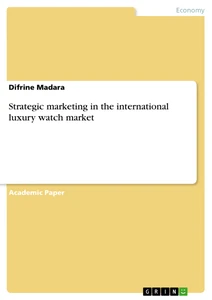 Strategic marketing in the international luxury watch market
Akademische Arbeit 2020 13 Seiten
Leseprobe
Task A: Application of Ashworth (2012) framework of six stages of organisational development in retail industry
Technological advancements and changes in the economic environment have had significant influence on the retail industry. These factors have directly impacted on the vitality and viability of most high streets shops while the emergence of e-commerce resulted in closures of some stores and unemployment (Donnell, Hutchinson and Reid, 2012). However, many retailers adapted to the changes in the business environment leading to even more superior business outcomes than before. For instance, technology has helped retailers to enhance effectiveness of decision making, efficiency of operations, vitality, viability and sustainability of retail strategies. Ashworth (2012) framework of six stages of organisational development helps to understand how a retailer adapted its operations to gain sustainable edge in the contemporary market environment. Based on the case of various retailers, this essay explores the application of Ashworth framework in explaining organization development in the retail industry.
Basically, Ashworth framework encompasses six stages i.e. web presence, information competence, value integration and creative development, enhanced integration of skills, processes and technologies, leveraging various processes to maximize value and sustaining or continuity of the business (Ashworth et al., 2006). At stage 1 (web presence), the business should be able to see the opportunity presented by the internet and develop its initial technological capability. It is important for marketers of retailers to note that internet opportunities can assist the company in cost minimization, utility maximization and generation of more profits. Currently, Wildberries has physical stores in Armenia, Kyrgyzstan, and Kazakhstan and has started online sales in Poland with 100 order distribution units (Reuters, 2020). Other retailers making significant strides in web presence include H&M-owned multi-brand discount outlet Afound with physical presence only in home market Sweden but has launched online sales in Netherlands, as part of a long-term strategy to expand its overall presence in Europe. Afound CEO Joanna Hummel cited "We will evaluate market by market which role the physical presence is to have for us" (Reuters, 2019). Additionally, emerging New Zealand-based pure play retailer Prix Workshop had influential publicity from Kylie Jenner, Kendall Jenner and Madison Beer on social media platform– Instagram. From the identified cases, it is evident that business invests in e-commerce capabilities as a way of expanding their market presence and reaching more consumers. However, as seen in the case of H&M, the company must have a clear long-term strategy on how to leverage on the benefits of online presence while minimizing costs.
At stage 2 (information competence), the company reorients its thinking. That is, the company makes web presence one of the primary elements of its overall business strategy. The most important thing at this stage is for the company to build its capacity in terms of skills and technology to ensure that the strategy brings benefits to the company (Ashworth et al., 2006). The company can also invest in research and development to determine other technological tools that can improve its service quality. One of the most common tools used to facilitate online retailing is the use of innovative and convenient payment systems. For example, several stores including Storeroom Vintage, a Sydney-based CAM retailer and Too Hot limited, a British pure play retailer use Shop Pay. In general terms, Shop Pay can be described as an accelerated checkout that let users to save their email address, shipping data, credit card and billing information so that they can fasten the transaction in subsequent shopify transactions. This service is convenient for buyers as one does not pay the card rate and there are no subscription transaction fees. These types of features make online buying more attractive (Ashworth et al., 2006).
Stage 3 encompasses value integration and creative market development. At this stage, the technologies adopted by the retailer does not only become part of the retail process but are improved to add value to different stages of retailing. This stage involves massive investment in capacity development and R&D to improve the company's intellectual capital. For example, MercadoLibre, the Latin American e-commerce site is set to invest $420 million on financial services, logistics and expansion of its offerings in Mexico which is the fastest-growing market of the Argentina-based pure play retailer (Reuters, 2020). In addition, Spanish clothing retailer– Adolfo Dominguez reinforced online operations amid the COVID-19 crisis with telephone ordering and advice from the expertise of the corporation's stylists; all these offline capabilities are provided on a free phone line (Adolfo Dominguez SA, 2020; Reuters, 2020). These investments are intended to customize service opportunities and remodel marketing strategy for cross-platform activities. Investing in knowledge management is important at this stage as it enables for effective strategic integration of online and offline retail approaches and maintenance of open purchasing network for customers.
Stage 4 (enhanced integration) involves recognition of people's needs i.e. customer tastes and preferences and training the employees on e-retailing best practices. Ashworth (2012) indicated that the changing demands of the customers resulted in massive transformations in the retail industry. Since retailers demand greater convenience in purchasing products, e-commerce companies such as Amazon and Alibaba have become global leaders in retail. As a result, conventional retailers like WalMart have been forced to review their retailing strategies and invest more capital in e-retailing to compete. WalMart is leading other conventional retail firms in remodeling their back-office infrastructure and strengthening their online revenue streams. As of 2019, online sales were the fastest growing revenue stream for WalMart. Stage 5 (leverage ELK to maximize value) involves expanding the company's technological and information management capacity to capture wide range of business areas. ELK Stack allows users to collect data from any source and also analyse and visualize data in real time. Companies such as H&M and WalMart implement ERP systems to assist in the management of inventory more efficiently and boost organizational capability to adhere to the demand of the customers.
Finally, stage 6 (sustainability of the technologies and business) implies that the business can consistently generate and sustain value based on the adopted technologies. From the above analyses, it is evident that technological innovations are ensuring smooth functioning of the retail chains by identifying the needs of the customers and responding appropriately. Hence, Ashworth (2012) framework of six stages of organisational development in retail industry helps to understand how retailers can enhance product and service offerings and ensure future dealings in the retail industry.
Task B: Opportunities and innovation challenges for an International luxury watch brand
Luxury experience can be described as a type of experience that is desirable or out of the ordinary but not a necessity. Bain & Company (2018) differentiated luxury brand experiences in terms of craftsmanship experiences such as heritage furniture, of modern art such as Yves Saint Laurent clothes, of timeless and internationally recognized quality such as Chanel perfume and of exclusiveness such as Ferrari cars. Luxury watches make up considerable proportion of the luxury good market. According to studies, of the €281 billion global luxury goods market, the global luxury watch market made up €39 billion in 2019. However, recent estimates show that the entire Swiss watches market is shrinking. For instance, the central European country's watch exports totaled 20.6 million, down from 23.7 a fall of 13% year-on-year in 2019 (Federation of the Swiss Watch Industry, 2020). Furthermore, fashion watches sales have underperformed other personal luxury goods. To remain competitive in this new challenging market, Swiss watch makers must strive to find new market opportunities for their products. Batat (2019) proposed three master drivers of digital transformation– technological drivers, demographic drivers and socioeconomic drivers. These generate new opportunities and innovation challenges for luxury players, consequently affecting consumption experiences in the luxury retail landscape.
Technological drivers include mobile and internet penetration, increase in connected devices, big data and cloud, artificial intelligence (AI) and user interfaces. Contemporary studies indicated that players in the luxury watch industry are increasingly investing in technological innovations, artificial intelligence and other digital technologies while ensuring that the watches remain affordable (Bain & Company, 2018). Though the Swiss watch industry has dominated the global industry since the 1800s when farmers made handcrafted mechanical watches, today's Swiss watches are largely associated with luxury and prestige. Artificial intelligence is now one of the main drivers of intelligent marketing that is leading to evolution of the watch industry. Singapore-based start up, Emotional Analytics (EMO), uses artificial intelligence to classify data from billions of social content updates into specific topics of interests thus allowing users to map out the emotional engagement with the topic (Federation of Swiss Watch Industry FH, 2020). The market insight provided by this tool assists marketers to facilitate a data-driven growth of the industry players. A recent study on EMO revealed that people strongly preferred Swiss automatic watches including diving, dress and pilot watches (McKinsey & Company, n.d). These kinds of insights help in reducing risks when launching a new watch and enabling a brand to combine innovation with design aspects that consumers desires.
Technology has also significantly transformed what collectors look for in a watch. Companies such as Apple and others have revolutionized watch making with unique and innovative smart watches. Studies showed that millions of consumers around the world are investing in the convenience of having mini-computers strapped to their wrist (Federation of Swiss Watch Industry FH, 2020). Today, even the Swiss watches which incorporate traditional craftsmanship with the functionality of digital technology fail to capture the attention of contemporary collectors. Due to this, classical watchmakers should leverage on the appeal of the emerging market of watch collectors who reject omnipresence of technology. Even in doing so, the Swiss watchmakers must acknowledge that consumers expect curated, technology-driven discovery and buys experience. In the meantime, the category's soft retail sales may reflect consumers increasingly adoption of smart watches, in addition to a shift of consumers wearing fashion timepieces less often now as mobile phones are ever-present time- telling devices. According to Strategy Analytics (2019), the Apple watch outsold the overall Swiss watch industry in 2019 with 51% rise in the third quarter and account for 47.9% of the global smart watch market, up from 45% in 2018. These statistics implies that if Swiss watchmakers utilize new technologies they can reach new, wider audiences and help a consumer to try a 'trendy' watch. This can result in increase sales while helping these traditional brands reach tech-savvy audience.
Demographic drivers refer to factors human capital factors such as education, urbanization and so on. For decades, the Swiss watch making industry has stood out from others due to the high level of creativity and considerable numbers of talented people. Studies showed that the industry was full of highly creative and talented people. However, these people often work for companies which are bottom line-driven (Bain & Company, 2018). As a result, talented and innovative employees are forced to focus largely on reputation and heritage instead of innovation. Overreliance on profits could also lead to loss of creativity leading to re-releasing best-selling model routine. This approach has led to Swiss companies losing market competition to more innovative firms such as Apple and Google. Companies like Google allow their employees to spend as much as 20 percent of their time on side projects (McKinsey & Company, n.d). Swiss companies can regain their competitive edge by focusing a few hours a week on creativity and lateral thinking which can lead to discovery of new and innovative designs capable if transforming a brand and its revenues.
Socioeconomic drivers encompass economic factors such as income, standard of living, absorption of technology among others. Assessment of socioeconomic factors allows companies to predict consumer needs by evaluating their online data and information shared (Bain & Company, 2018). This provides the brands with an opportunity to customize and engage with the consumers in real time. To defeat socioeconomic challenges such as slow economic growth, COVID-19 pandemic, difficulties in development of new markets among others, Swiss watch makers must invest in both high-end Swiss craftsmanship and timeless design to maximize profits while minimizing costs. These companies should take advantage of the advancements in manufacturing and factory-direct retail business models which have opened up new markets for watch collecting to expand their businesses. In addition, the companies must explore innovative ways of connecting with customers and reducing costs without compromising on design and quality (McKinsey & Company, n.d). In a nutshell, the current global market provides an opportunity for Swiss watch makers to create another tier in watch collector market and attract new customers with relatively lower price-point.
[...]
Details
Seiten

13

Jahr

2020

ISBN (eBook)

9783346311610

ISBN (Buch)

9783346311627

Sprache

Englisch

Katalognummer

v961653

Institution / Hochschule

Kenyatta University

Note

A

Schlagworte